---
Introducing our Transparent Metal Frame Snapped Button Lock For iPhone Case This innovative phone case is designed to provide the perfect blend of style, functionality, and protection for your beloved device.
Crafted with a sturdy metal frame, our case offers exceptional durability while adding a touch of elegance to your phone. The metal frame not only safeguards your device from everyday bumps and scratches but also enhances its overall aesthetics, making it stand out from the crowd.
Magnetic Snapped Button Design: You can remove the frame and the back cover, Andit will Lock automatically when you close the frame and back cover.
Our case is also equipped with Magsafe magnetic technology, enabling seamless wireless charging compatibility. Simply place your phone on a compatible wireless charger, and the powerful magnets embedded in the case will effortlessly align your device for efficient charging.

Transparency meets protection with our transparent back panel, allowing you to showcase the original design of your phone while safeguarding it against scratches and scuffs. The clear design lets you enjoy the beauty of your device without compromise.
To ensure complete protection, we've included a lens protector that shields your camera lenses from scratches, dust, and fingerprints. With this added layer of defense, you can capture stunning photos and videos with confidence, knowing that your lenses are well-preserved.
Precise cut-out: This case is easy to install due to the silicone inner shell and easy access to all features (speaker/ charging port/ camera), which you have no need to take off when using your phone.
Key Features:
Sturdy metal frame for enhanced durability and style.
Snapped Button Lock design for a secure fit.
Magsafe magnetic technology for seamless wireless charging.
Transparent back panel to showcase your phone's original design.
Lens protector for safeguarding your camera lenses.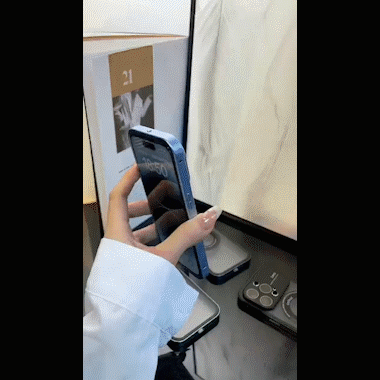 Upgrade your phone's look and safeguard it from daily wear and tear. Order now and give your device the care it deserves!
Package Includes: 1 x Transparent Metal Frame Snapped Button Lock For iPhone Case.